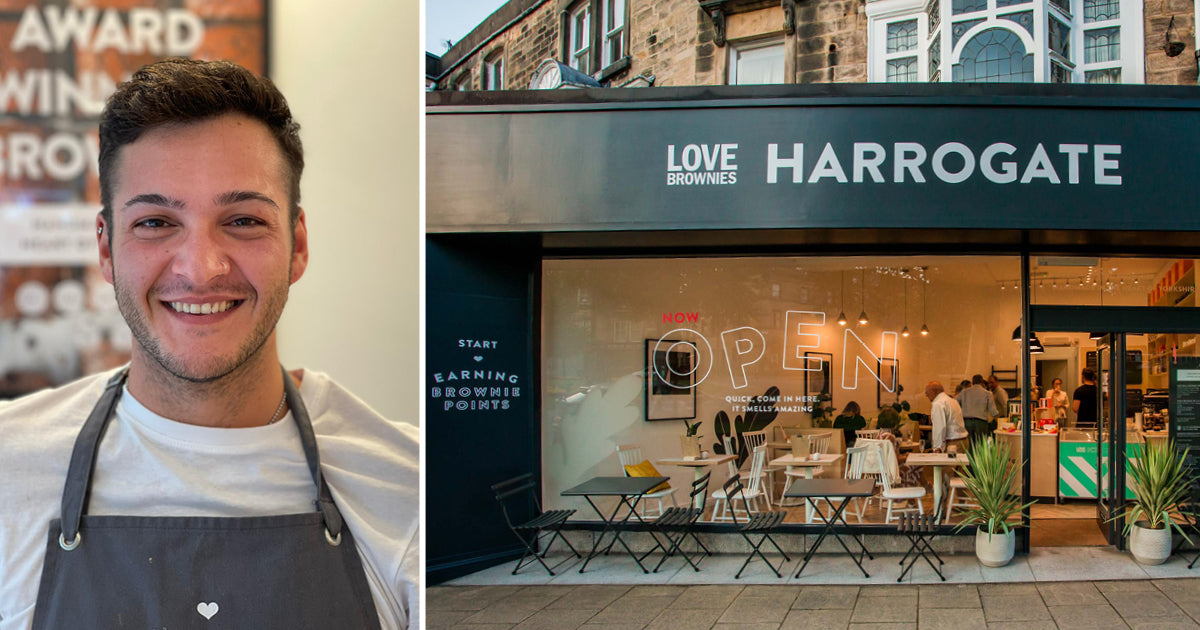 Meet the team - Gigino at Harrogate
We know that our people are what sets us apart from the rest. Every month we'll introduce you to someone new from Team LB so that you can get to know the faces behind the brownies!
Meet our new Harrogate store manager Gigino. If you haven't met Gigino then the first thing to know about him is that he is from Italy and he is very proud of it!
Where in Italy are you from?
I am originally from Naples, so from the South of Italy. A lovely country, full of art, good food and amazing views. In Naples we say "Vedi Napoli e poi muori" that translates to "See Naples and then you die", because it is the most beautiful Italian city of them all. I am proud to be Italian and proud to be Neapolitan.
What's your favourite thing about working at Love Brownies?
I am the new manager at Love Brownies Harrogate. I love this role and for the first time in 4 years I feel I have found something I am passionate about and really enjoy.  Until a couple of months ago, I worked for Italian restaurants but I realised I wanted a new challenge, something different and more rewarding that would help me regain the happiness lost in the past year due to the pandemic.
Love Brownies feels like my home and the team is my family which helps the day-to-day atmosphere in the shop. They helped me to find the light heartedness and light in my life that I had been missing for a while.
What is your favourite thing about working for Love Brownies?
My team for sure, being with them is amazing! Time flies and our days go by so quickly. We all have bad days but as a team at Love Brownies we all lift each other up and support one another.
Which brownie is your favourite?
Everyone needs to come and try our fantastic brownies! They are superb and genuinely delicious. My favourite? All of them! You can't say that one brownie is better than the others because they are all amazing in their own way…. and they are made to a completely gluten-free recipe with a fabulous vegan range too so there is something for everyone!
What is your favourite kind of coffee?
Our coffee at Love Brownies is amazing! My favourite is a mocha because our hot chocolate is homemade and really like the kind you get in Italy. It is creamy and indulgent, great when it's freezing outside.
Do you have any hobbies when you're not making the people of Harrogate smile?
I love spending time with my friends. They all make me feel special (even if I already am!) and make me happy. I have joined Zumba classes which I love, and I adore having sunbeds. The Yorkshire weather sometimes hurts me, I am always searching for something that keeps me warm!
Are there any other comments you'd like to leave our readers with?
My life is doing very well now, I am proud of the education received from my parents and proud of myself for where I am today! I am thankful to Love Brownies for this great opportunity in becoming a manager of this Harrogate store as it has allowed me to find myself and be happy again. If you're in Yorkshire, please come and see us.